Gran Alacant is a district of Santa Pola located in the Province of Alicante on the Costa Blanca in Spain. The district is about 12 minutes by taxi away by car (along the road N-332) from International Alicante-Elche Airport (ALC).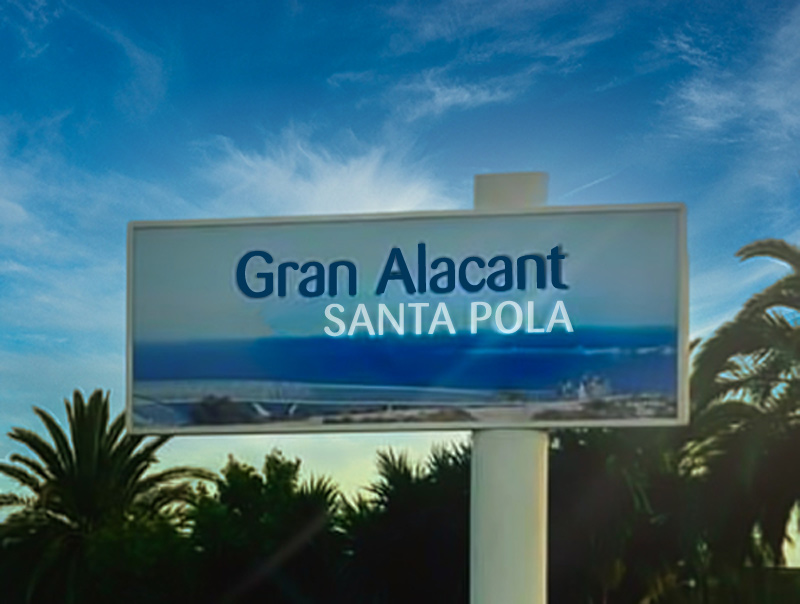 The name Gran Alacant was given to the first urbanisation which was built in the upper section of the resort around the year 1982. Once established, more urbanisations were built, and today there are over 20 residential areas spread over the upper and lower areas of Gran Alacant. In 2020 Gran Alacant is home to 9.263 residentials, 4.781 males and 4.482 femals (Source: ine.es Spain statistical department).
Gran Alacant is generally a quiet place and its visitors are mainly Europeans who either live there or own / rent a holiday home. When all the flats and propteries are rented out the numbers will nearly tripple to approximate 25.000 people.
Demographics in Gran Alacant are as usual in tourist places  about 16% < 14 years and 18% > 65 years. 18% of the residents are foreigners. In 2019 more than 1.000 foreigners came from the UK (source).
There are a wide range of bars, restaurants and shops and the GA Center mall and two fantastic sandy beaches to visit. From April to October the climate in Gran Alacant is excellent here in Gran Alacant and the whole Costa Blanca.
There are more than 30 urbanisations in Gran Alacant in total:

| Urbanisation | built from | built until | N° of units | Comments |
| --- | --- | --- | --- | --- |
| Altomar I | 2001 | 2003 | 399 | |
| Altomar II | 2001 | 2004 | 809 | |
| Bahía Playa | 2018 | 2018 | 62 | |
| Balcones del Mar | 2006 | 2009 | 120 | |
| Brisa Mar | 1991 | 2006 | 482 | |
| Brisas del Faro | 2001 | 2005 | 293 | |
| Camarcha Playa | 2002 | 2002 | 13 | |
| Carabassi | 1989 | 2004 | 90 | |
| Costa Hispania A & B | 1988 | 1990 | 247 | |
| Costa Hispania C | 1996 | 2001 | 163 | |
| Don Pueblo | 1998 | 1998 | 54 | |
| El Faro | 1990 | 2002 | 188 | |
| Gran Alacant | 1984 | 1984 | 363 | |
| Gran Alicante | 2019 | 2019 | 26 | Cl. Manuela Molina Segura |
| Gran Vista | 1987 | 1988 | 474 | |
| Lomas del Carabassi | 2009 | 2019 | 122 | |
| Mediterraneo | 2000 | 2003 | 456 | |
| Mirador del Mediterráneo | 2001 | 2001 | 13 | |
| Monte Faro | 2004 | 2007 | 358 | |
| Monte y Mar | 2003 | 2008 | 1595 | C. Canarias / Av. Escandinavia |
| Monte y Mar 4-4-A | 2004 | 2008 | 181 | C. Creta / C. Chipre |
| Monte y Mar 4-2 | 2000 | 2005 | 575 | Av. Polonia |
| Monte y Mar 6A 6B | 1998 | 2007 | 513 | C. Luxemburgo / C. Holanda / C. Belgica |
| Novabeach | 2014 | 2014 | 83 | |
| Novamar I - IV | 2001 | 2005 | 1065 | |
| Olivo de Oro | 1999 | 1999 | 31 | Av. Escandinavia |
| Panorama | 1983 | 1983 | 160 | C. Asturias |
| Panorama Sea View | 1983 | 1983 | 281 | C. Asia / c. Oceania |
| Pino Mar | 1997 | 1997 | 19 | Av. Mediterraneo |
| Puerto Marino / Port Marí | 2003 | 2006 | 448 | C. Finlandia |
| Residencial Isla de Izaro | 2005 | 2006 | 99 | C. Caridad Soler Dura |
| San Sebastian | 2008 | 2019 | 682 | |
| Santa Pola Life Resort | 2008 | 2008 | 200 | |
| Sierra Mar | 1982 | 1989 | 350 | The last block was built in 1989 (Calle Rio *) |
| Solero Hills | 2017 | 2021 | 52 | |
| Sol y Playa | 1989 | 1989 | 84 | C. Rioja |
| Sueno Azul | 1988 | 1988 | 120 | |
| Sukha | 2019 | 2021 | 101 | |
| Victoria Playa | 2002 | 2004 | 127 | |
| Vista Bahia | 2003 | 2005 | 85 | C. Orden Dorico |