Gran Alacant has access to two of best and beautiful beaches along the Costa Blanca coast. The El Carabassi beach is the closest.
Playa del Carabassi – natural, sandy & gently sloping beach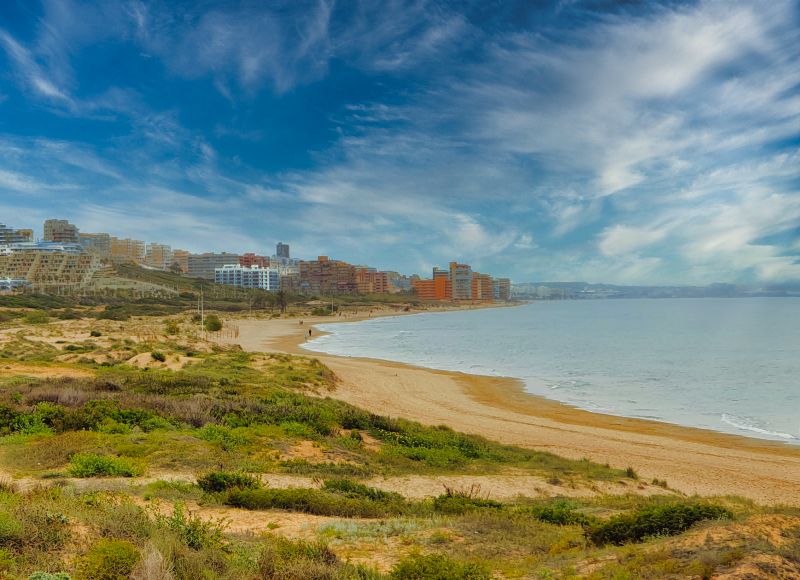 The closest beach to Gran Alacant is El Carabassí beach, which is within walking distance of Gran Alacant and only about 17 km from the centre of Alicante and connects directly with Saladar beach.
Residents, guests and visitors of Gran Alacant can reach Carabassi beach on foot. Also the Los Arenals del Sol beach is just a few meters next to the Carabassi beach and free for all. Both beaches are natural sandy beaches where you can sunbathing and relaxing. You can go swimming in the sea from May to October. Located just outside of Alicante, it's a beach with fine sand and crystal clear waters perfect for swimming in. The beach has lots of facilities such as showers and changing rooms so you can make sure to be prepared before you head into the water! There are also beach clubs, restaurants and bars available along the beach or just a few steps in the direction of to Gran Alacant.
Unlike Saladar beach, this beach has no buildings behind it and no promenade. It lies directly under the small rock of the same name and has a beautiful sand dune system.
To get to the sand, you have to pass through a system of wooden paths built to protect the beautiful ecosystem of the dunes.
Swimming in the sea at Gran Alacant beach:
The beach is guarded by lifeguards during the season. The zones where you can swim are marked with yellow buoys and are sufficiently wide. Please note that you are NOT allowed to enter the water when the red or black flag is up. Only when the flag shows the colours "yellow" and "green" bathing is allowed! The red flag usually appears on this beach when it is very windy.
During the bathing season, there is a lifeguard at Playa Carabassi between 10:00 and 20:00. During this time, a flag on the beach signals the danger status. GREEN = "everything OK", YELLOW = "caution", RED = "no swimming".
Currently (08/12/2023 - 10pm) the waves are moderate to calm, so the green flag should be in place. Green means - everything is OK!
Parking near the beach in Gran Alacant
There is also parking nearby along the road Av. San Bartolomé de Tirajana from Gran Alacant to Los Arenales, as well as on the road towards Santa Pola, which also leads to the dog beach.
There is a new parking space planned (ready around August / September 22) vice versa the La Milla bar and very close to the beach. The new parking area should be available also for caravans.
How to get there with public transport / bus?
Option a) bus route 2 from Elche to Los Arenales del Sol (via Valverde) – timetable
Option b) bus route 1A / 1B from Elche to Los Arenales del Sol (via Airport) – timetable
Taxi is always an option, approx. 25 EUR from Alicante or 15 to 20 EUR from Santa Pola.
Good to know: Dunes and Naturist beach
El Carabassí beach is also a naturist beach in the direction of Santa Pola. In the dunes, people seek their intimate space and tan their bodies in the sun in an enviable natural environment.
The dunes are populated by small reptiles that hide in the bushes and typical Mediterranean pine trees can be found right next to the dunes.
The sand is golden and it is one of those beaches where it takes a while to get into knee-deep water. On the seabed, you will find small rocks with marine life and fish in some places. It's definitely worth bringing a pair of diving goggles.
This is one of the most beautiful beaches in all of Spain, and it's also quite easy to get too.
This beach connects with several other shorelines which makes for a great adventure when exploring different areas that are close by; however, if you want an easier way to travel back then this might not be your best option as there aren't many options nearby or along its shores.
Do you love nature? Visit the nature reserve Clot de Galvany next to the beach
Clot de Galvany is a wetland that has around 200 types of plants and animals. With a high population of birds, butterflies and dragonflies, it's no surprise that Clot de Galvany is one of the most important wetlands in Valencia. It's also connected to the pine forests and dunes of Playa del Carabassí, which are perfect for hiking. You can explore this beautiful area with your family or friends!
That nature reserve is ideal for walking, jogging or cycling. The area also has a picnic area that is used by many people, usually on Sundays, to spend a day in the countryside just a few metres from the sea.
This protected wetland, which extends to the area of the former bunkers and trenches towards Balsares with its ponds and is connected to the pine forests and dunes of El Carabassí. Along its paths you will find ponds, Aleppo pines, holm oaks, olive trees and a variety of aromatic shrubs such as thyme, lavender and rosemary. The brown porrón, grey teal, and white-headed malvasia are just some of the animals that call this place home. If you're looking for a new adventure spot, come visit the Gran Alacant Play del Carabassí & Clot de Galvany today!
More details: